AI Proposal Generator, lead scoring, analytics for upwork.
Browser extension that uses AI to improve results for freelancers and companies on Upwork. AI Tools for Upwork offers features such as job post rating, proposal generation, question answering, Pipedrive CRM sync, and more. 
Trusted by 1,000+ companies across the world.
Power Up Your Upwork Success with Upwex.io
AI-Powered Tools for Freelancers and Companies
Upwork to Pipedrive Integration
Easily create and manage deals in Pipedrive CRM directly from Upwork with Upwex.io's seamless integration.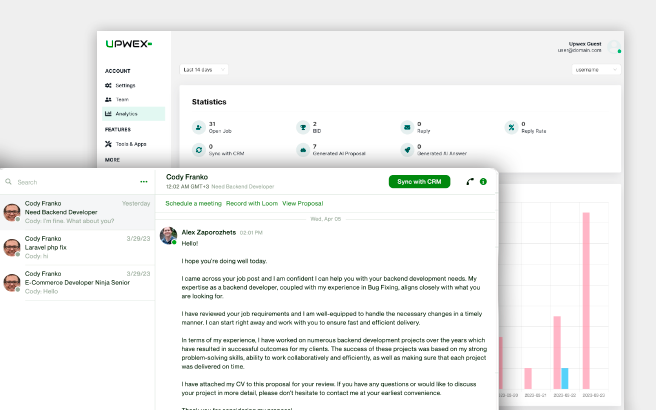 AI Chrome Extension for Upwork
Enhances Upwork with job analysis, proposal generation, Q&A, Pipedrive CRM sync, deal creation, and analytics.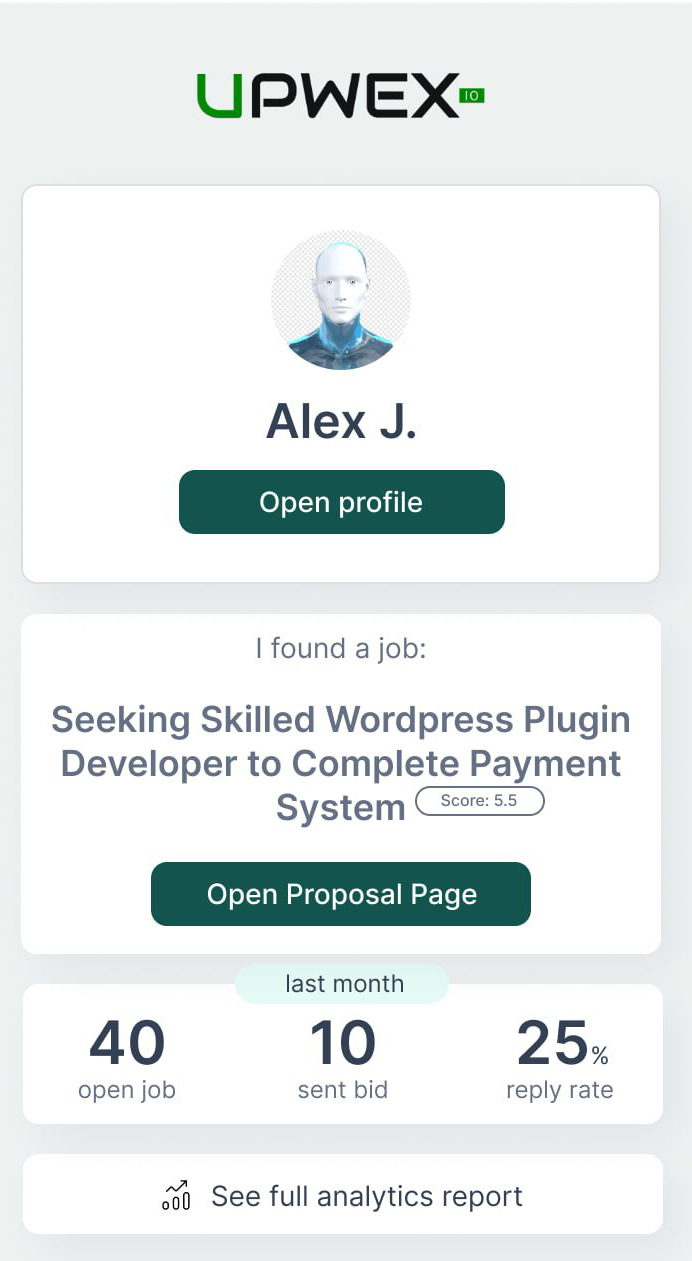 Rating for job posts
Extension analyzes Upwork job postings using AI to assist freelancers and companies in finding suitable projects faster. All job posts are rated based on the client's and job's history.
AI Proposal and Q&A
AI-based tool that automates proposal creation and assists in answering client questions. Upwork proposal generator AI – this is the best cover letter for your client.
Sync wyth CRM
Easily synchronize your contacts and messages with your CRM platform, streamlining the integration between the two platforms.
We help 1,000+ people improve their success on Upwork by providing AI-powered tools.
Boost your Upwork success with Upwex AI Powered Tools for Freelancers and Companies.
Comprehensive solution with priority support for top performers.
Most asked questions from our customers
Explore the most frequently asked questions by our valued customers and find answers to all your inquiries.
What is Upwex Chrome Extension?
Upwex is a Chrome extension designed to streamline the freelancing process on Upwork, providing users with advanced features to enhance productivity and efficiency.
What kind of features does Upwex provide?
Upwex offers a variety of features, including AI proposal and Q&A, CRM synchronization, job post rating, and more.
Yes, Upwex Chrome Extension is completely secure to use, as it only requires read-only access to your Upwork account and does not store any personal data.
Can I use Upwex with other CRMs?
Currently, Upwex Chrome Extension is only compatible with Pipedrive CRM.
We have a free trial version of Upwex Chrome Extension for all Upwork users, but to access all the features and capabilities of the product, a subscription payment is required.
Boost your Upwork success with Upwex's AI-powered tools.
Streamline your workflow and land more projects today.