The world of freelancing is a dynamic landscape filled with opportunities and challenges. With over 1.57 billion freelancers worldwide, it's clear that the gig economy is flourishing. However, with so many tasks to handle, it's crucial for freelancers to equip themselves with the right tools to streamline their workflow. This comprehensive guide brings you the top tools for freelancers in 2023, ensuring you can optimize your operations, increase your productivity, and stay on top of your game.
1. Upwex – AI Tools for Upwork
If you're a freelancer using Upwork, Upwex is a must-have tool. This browser extension enhances your Upwork experience by streamlining proposal creation, providing personalized suggestions, and offering valuable insights into client preferences.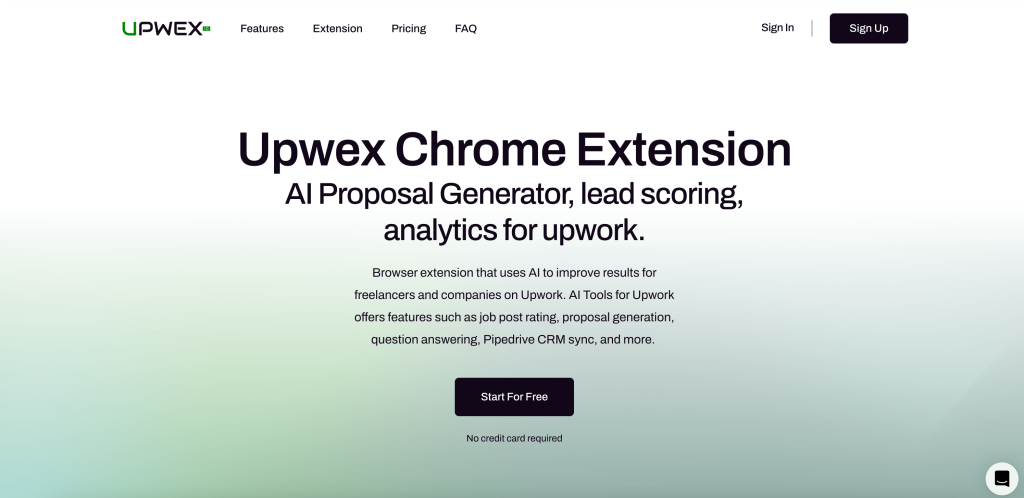 Key Features
Job Score: Upwex analyzes Upwork job postings using AI to help freelancers find suitable projects faster.
AI-Powered Proposal Generator: Create professional proposals quickly with automatic proposal generation based on job post analysis.
AI-Powered Q&A: Save time communicating with potential clients with technical response generation to job post questions.
Analytics and Reporting: Track project conversion and success with analytics and reporting features.
Integration with Pipedrive CRM: Synchronize contacts and messages with Pipedrive CRM for easy integration.
Pricing: Upwex offers a 3-day free trial and a $25/month starter plan.
2. Time Management and Scheduling with Google Calendar
One of the biggest challenges freelancers face is managing their time efficiently. Enter Google Calendar, a tool that simplifies scheduling and ensures you never miss a deadline or an appointment.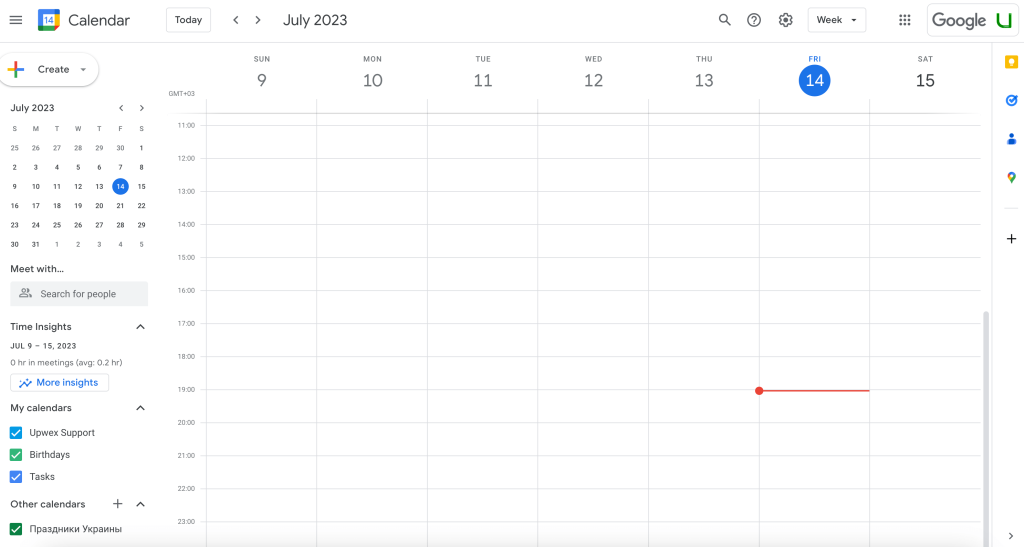 Key Features
Appointment Alerts: Google Calendar will alert you before your appointment, ensuring you're always on time.
Location and Details Input: Input the location and other relevant details of your meeting directly into the calendar event.
Rich Formatting and Hyperlinking: Share notes and presentations before the meeting with rich formatting and hyperlinking features.
Multiple Calendars: Manage multiple calendars at once if you're working with many clients.
Pricing: Google Calendar is available for free with any Google account.
3. Simplifying Meeting Scheduling with Calendly
Synchronizing schedules for meetings can be a hassle. Calendly streamlines this process by providing a unique scheduling link that shows your availability, making it easy for clients to book a meeting slot.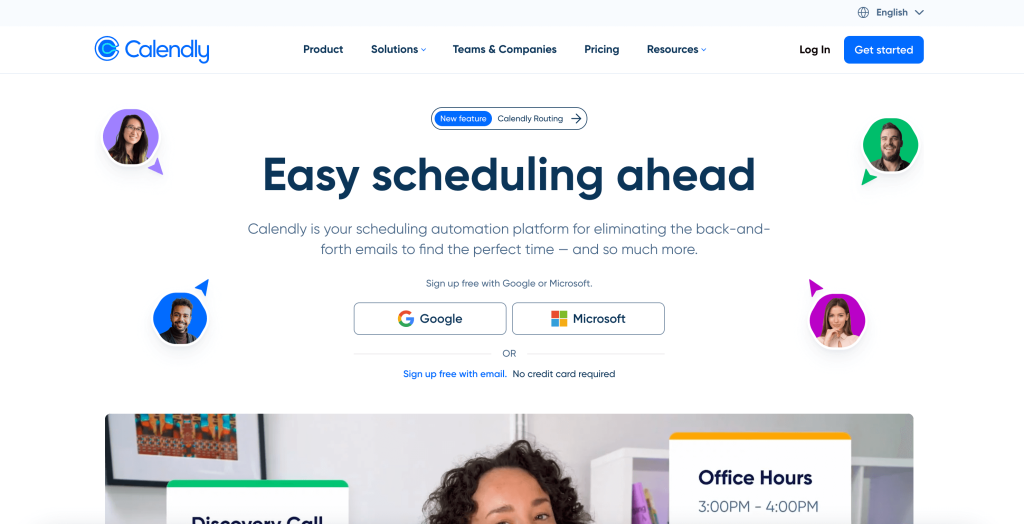 Key Features
One-on-One or Group Meetings: Schedule individual or group meetings based on your needs.
Integrations: Calendly integrates with Google Calendar, Outlook, Office 365, and iCloud, as well as apps like Salesforce, Zapier, Slack, and Mailchimp.
Timezone Detection: Calendly handles timezone detection automatically, simplifying the process of scheduling meetings with international clients.
Pricing: Calendly offers a free basic plan with premium plans starting at $8 per user per month.
4. Enhancing Communication with Slack
Slack is a business communication platform that allows you to create different groups and channels for different clients, ensuring all your professional communication is organized and easily accessible.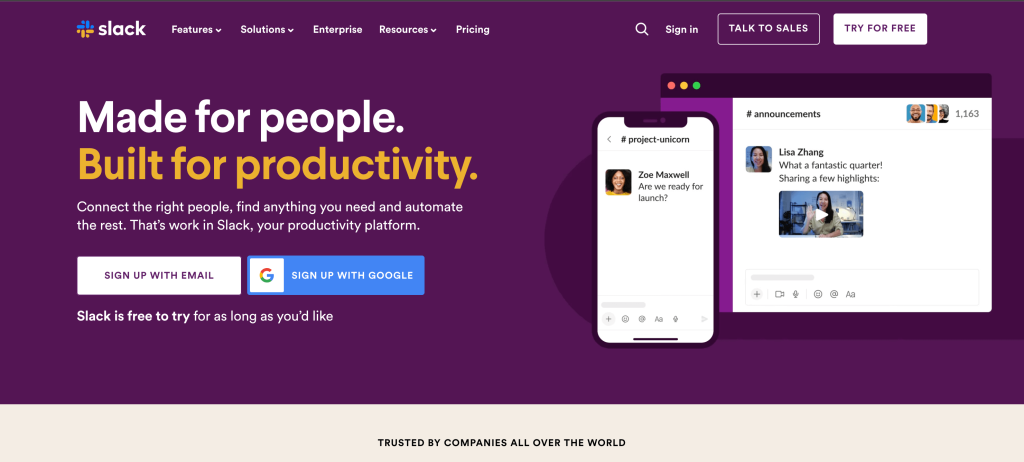 Key Features
Channels: Organize your communication around specific topics or projects with channels.
File-Sharing: Share files for easy collaboration and feedback with your clients.
Customizable Notifications: Set reminders and customize notifications to ensure you never miss important updates.
Pricing: Slack offers a free tier for small teams, with premium plans starting at $6.67 per user per month.
5. Enhancing Writing with Grammarly
As a freelancer, your written communication must be impeccable. Grammarly helps you achieve this by providing real-time grammar and spelling checks, vocabulary suggestions, and plagiarism checks.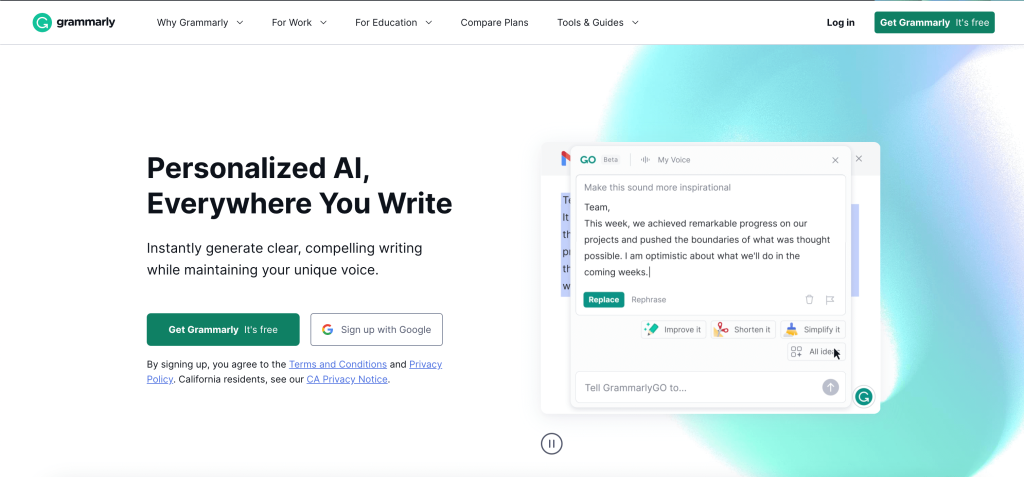 Key Features
Real-Time Checks: Catch errors as you write with real-time grammar and spelling checks.
Vocabulary Suggestions: Improve your writing style and word choice with vocabulary suggestions.
Plagiarism Checks: Ensure your writing is original with plagiarism checks.
Pricing: Grammarly offers a free tier with basic writing suggestions. Grammarly Premium starts at $11.66 per month and includes advanced writing feedback.
6. Document Creation and Collaboration with Google Workspace
Google Workspace is an all-in-one tool that includes features for email, document creation, calendars, video conferencing, and more. It's an essential tool for freelancers who need to manage work and keep track of all their deadlines and meetings.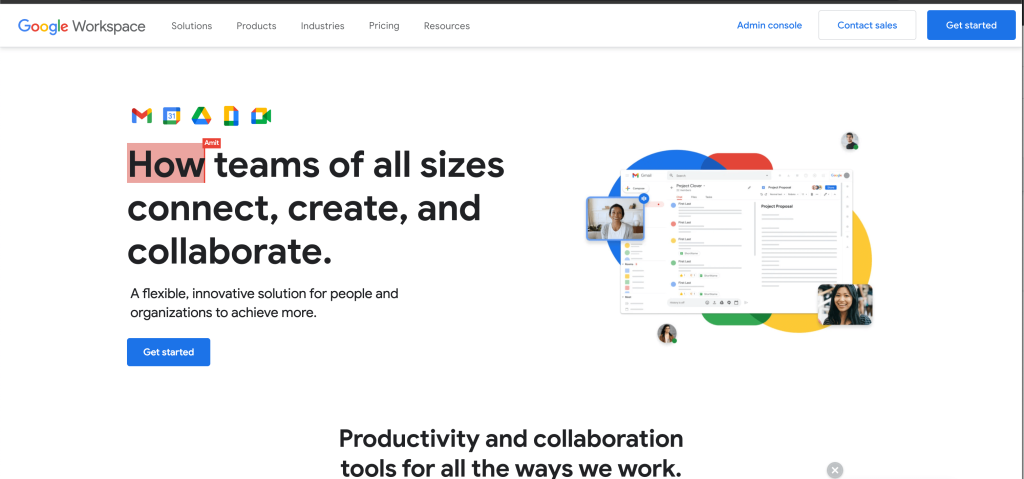 Key Features
Email and Calendar Management: Manage your emails and schedule with Gmail and Google Calendar.
Document Creation and Collaboration: Create, collaborate, and share documents with Google Docs, Sheets, and Slides.
File Storage and Sharing: Store and share files with Google Drive.
Video Conferencing and Online Meetings: Conduct video conferences and online meetings with Google Meet.
Pricing: Google Workspace offers several pricing tiers, starting at $6 per user per month
7. Task Management with Asana
Asana is a web-based project management tool that helps teams collaborate and organize their work. As a freelancer, you can use Asana to manage tasks, set deadlines, assign team members, and track the progress of your goals.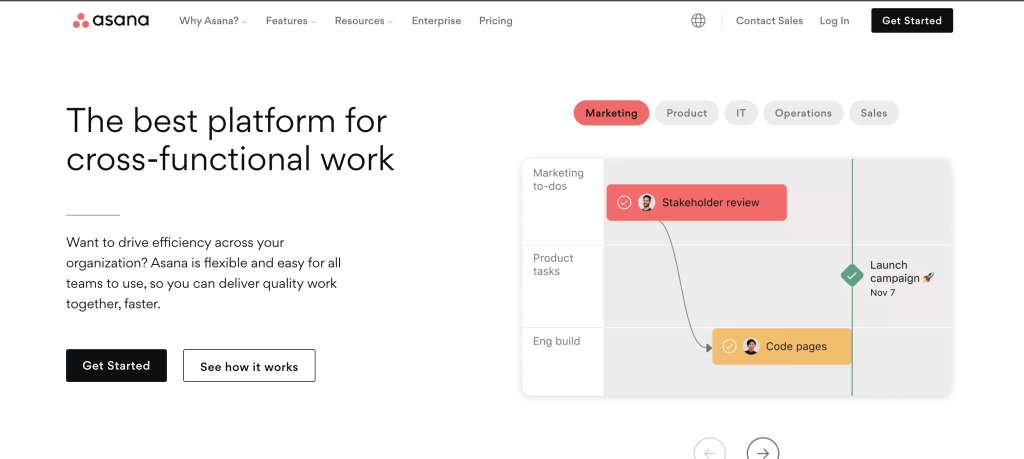 Key Features
Task Management: Asana offers an intuitive task management system to create, assign, and track tasks.
Collaboration: Collaborate on tasks, share files, and communicate in real-time with your clients.
Project Tracking: Keep an eye on your project status and progress with Asana's tracking tools.
Pricing: Asana offers a free basic plan with premium plans starting at $10.99 per user per month.
Trello is a flexible and easy-to-use project management tool that helps freelancers manage their tasks and projects more effectively. With a visually appealing and intuitive interface based on Kanban boards, Trello allows freelancers to create, organize, prioritize, and track the progress of their tasks in real-time.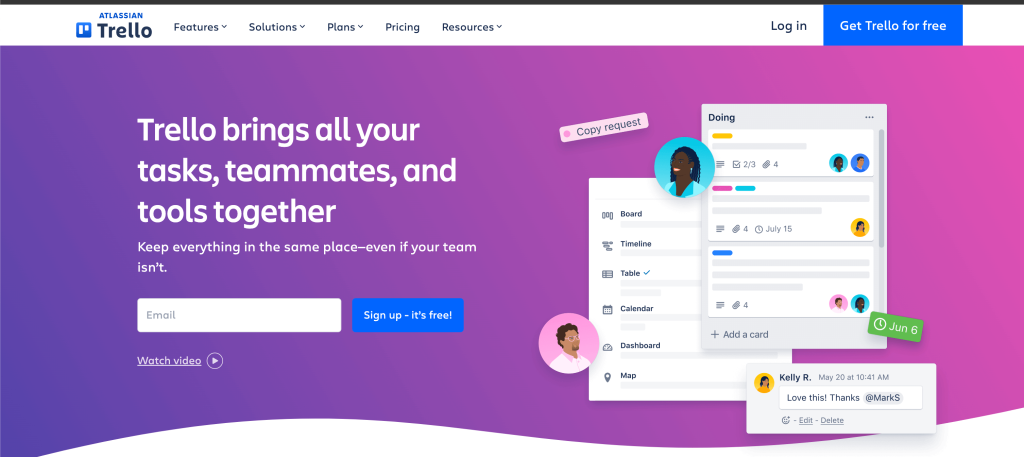 Key Features
Kanban Boards: Visualize your workload with easy-to-use boards.
Cards and Lists: Breakdown projects into manageable tasks.
Checklists and Due Dates: Keep track of your task progress and deadlines.
Collaboration Features: Invite clients or team members to collaborate.
Integrations: Works well with other tools like Slack, Google Drive, etc.
Pricing: Trello offers a free basic plan with unlimited personal boards, cards, and lists. Paid plans start from $10/month when billed annually, providing advanced features like priority support, unlimited team boards, and more.
Payoneer is a popular payment platform that allows freelancers to easily receive payments from clients all over the world. It's highly useful for freelancers who work with international clients as it supports multiple currencies and provides a cost-effective solution for cross-border transactions.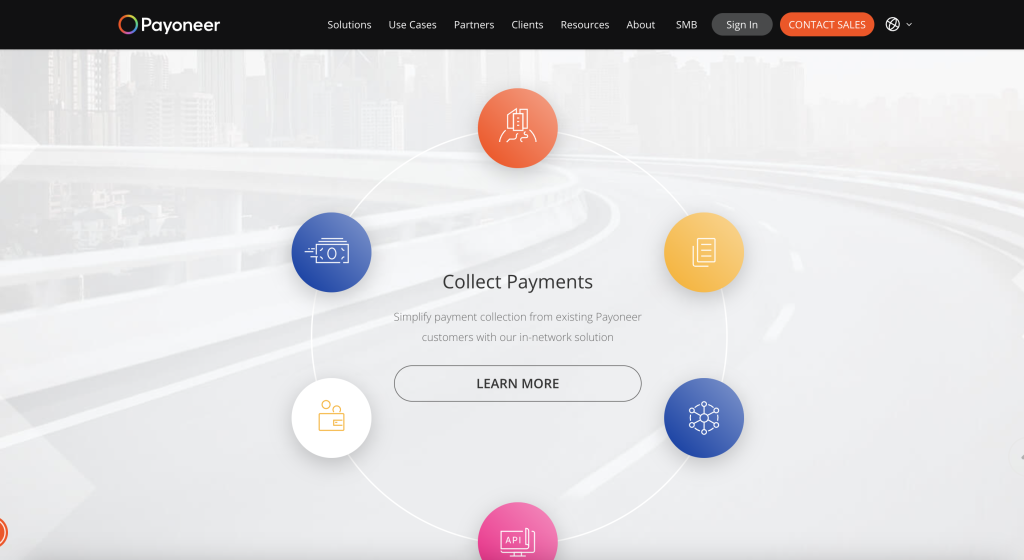 Key Features
Multi-currency Support: Receive payments in various currencies.
Cross-Border Transactions: Make and receive international payments easily.
Integrated with Marketplaces: Directly receive payments from freelance marketplaces.
Secure: Adheres to international compliance standards for secure transactions
Pricing: Receiving payments in USD, EUR, GBP, JPY, AUD, CAD & CNY from companies is free. There are fees for other transactions, such as withdrawing money, which varies depending on the method and currency.
Zoom is a reliable and straightforward video conferencing tool that facilitates online communication. For freelancers, it is a convenient way to communicate with clients or team members remotely. It supports video meetings, webinars, and chat functionalities.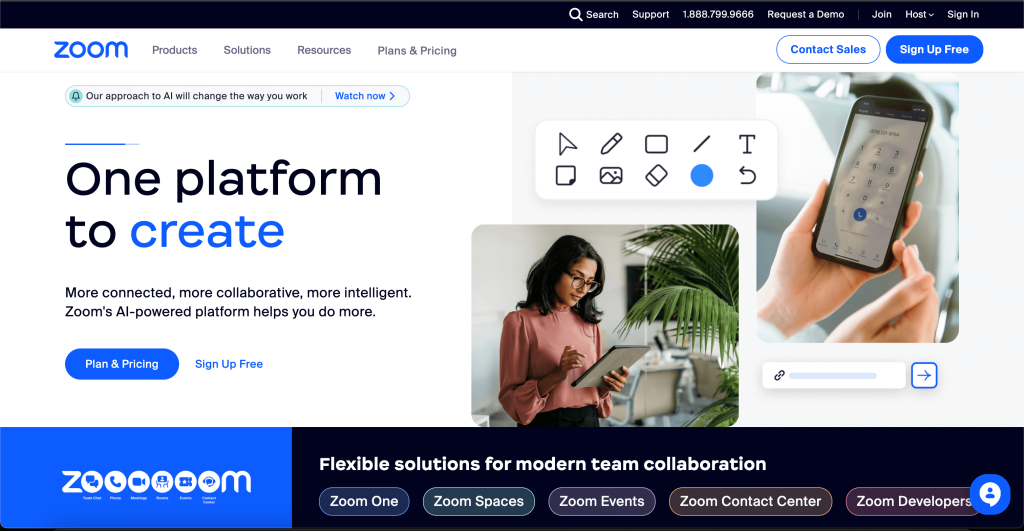 Key Features
High-Quality Video and Audio: Provides clear and reliable video and audio quality.
Screen Sharing: Share your screen with participants during meetings.
Recording: Record your meetings for future reference.
Integrated Chat: Communicate via text during meetings, if necessary.
Breakout Rooms: Split your Zoom meeting into separate sessions.
Pricing: Zoom provides a free basic plan which includes unlimited 1 to 1 meetings and group meetings with a 40-minute limit. The Pro plan starts at $14.99 per month per host and offers more features like 24-hour meeting duration, social media streaming, and 1GB of cloud recording.
Conclusion
Freelancing is not just about having the freedom to choose who you work with or set your own schedule. It's also about managing multiple aspects of your business efficiently. Choosing the right tools can make this process easier, allowing you to focus more on what you love doing. Whether you're managing projects, tracking time, creating invoices, or enhancing your proposals, these tools offer a variety of features to help you streamline your workflow, increase productivity, and ultimately, succeed in your freelance career.