Jump-Starting Your Freelance Career on Upwork
Hello everyone! Today, we're updating you on the changes in the Upwork landscape and guiding new freelancers on effectively kick-starting their freelancing journey on Upwork.
Upwork Tutorial for Beginners is an essential resource for those venturing into the world of freelance on this platform. In 2023, Upwork continues to evolve, offering vast opportunities for freelancers and clients alike. With the right guidance, mastering its intricacies becomes an achievable goal. In this guide, we'll unveil step-by-step strategies, tips, and insights to kickstart your journey and ensure a successful freelancing experience on Upwork
Quick note: this post isn't sponsored by Upwork — we merely use their platform to offer our freelancer services. Should you have a specific Upwork question, be sure to check out the playlist in the description below for comprehensive information on the platform.
What is Upwork?
Let's start at the beginning. Upwork is an online freelancing platform that facilitates a connection between global freelancers and clients requiring services. From video production, document transcription, graphic design to programming, and more— you can land a job in almost any field on Upwork.
Our team has been on Upwork for a significant time. We are highly rated with a 100% job success rating and have earned over $130,000 since we began. To jumpstart your Upwork journey, our team is going to walk you through how to set up your Upwork profile in order to land clients.
Building an Effective Upwork Profile
One critical information to note is that you are allowed only one account on Upwork. To create this account, we'll visit Upwork's website and sign up as a freelancer. Now, let's break down creating an Upwork profile:
Fill out your personal information.
Next, select "I'm a freelancer looking for work," enter your contact details, agree to Upwork's terms and conditions, and create your account.

You'll need to verify your email before proceeding— check your email and authenticate the email you used in signing up.

Now that you're verified, you can now answer a couple of questions and start building out your profile. It should take about five to ten minutes, and you can modulate it later on.
When adding a title to your profile, ensure it encapsulates the type of job you're eager to apply to and mirrors your experience. Examples of elements to incorporate in your profile include your work experience, skills, education, languages spoken, and a portfolio if available.
Don't fret if you lack a portfolio; you can create examples of the services you offer. For instance, if you aim to sell your services as a YouTube thumbnail designer, you might want to design some hypothetical thumbnails for your portfolio.
Continue populating your profile by choosing the main services you present to the world. You may choose from the recommended services or look for ones that align with your skills.
When setting your rate, bear in mind that some clients may choose to hire you based on an hourly rate. Therefore, set an acceptable hourly rate for yourself regardless of your preference for fixed-rate jobs.
Proceed to add your resident address, your phone number, and most importantly, a clear headshot of yourself. Check your profile, proofread, and make any necessary edits before submission.
Enhancing Your Upwork Profile
After submitting your profile, you can supplement your profile with more details such as a video introduction and adjusting your working hours per week. To enhance your chances of getting hired, add a portfolio of past projects if you have any.
Aim to complete your profile until it reaches a 100% completion before applying for bids. You can save this for later or dive right into browsing jobs on the platform.
Upwork Connects Explained
Notice the "get 80 Connects each month" at the top of your profile. This indicates how many times you can apply for jobs per month. On Upwork, there are different membership plans that determine the number of connects you receive. The Freelancer Plus plan, for instance, provides you with 80 connects every month. This is in contrast to new freelancers on Upwork, who are given an initial 50 connects absolutely free. The Freelancer Plus plan also offers benefits like seeing the average bid range on jobs, keeping your earnings confidential, and the ability to roll over up to 140 unused connects.
Connects streamline the job application process on Upwork— freelancers apply to gigs using Connects, thereby easing the burden of going through bulk applications from clients. Hence, you only apply to jobs that are relevant to you— minimizing wasted connects.
Applying for Jobs on Upwork
Applying for jobs is as straightforward as clicking "Apply job." However, you want to be strategic about the bids you choose to apply for. Start by filtering jobs to match your specific criteria such as experience level, job type, client review, client history, and how many proposals have been sent. You can further refine your search by inputting your niche into the search bar.
When applying, opt to attach a cover letter where you succinctly communicate your experience and the skills you will be bringing to the table. Keep it brief and straight to the point— one or two paragraphs would suffice. Also, proofread for grammatical errors, coherence or misused words. To write a proper Cover Letter, we use Upwex. Upwex is trained to do this professionally.
Consider this example cover letter: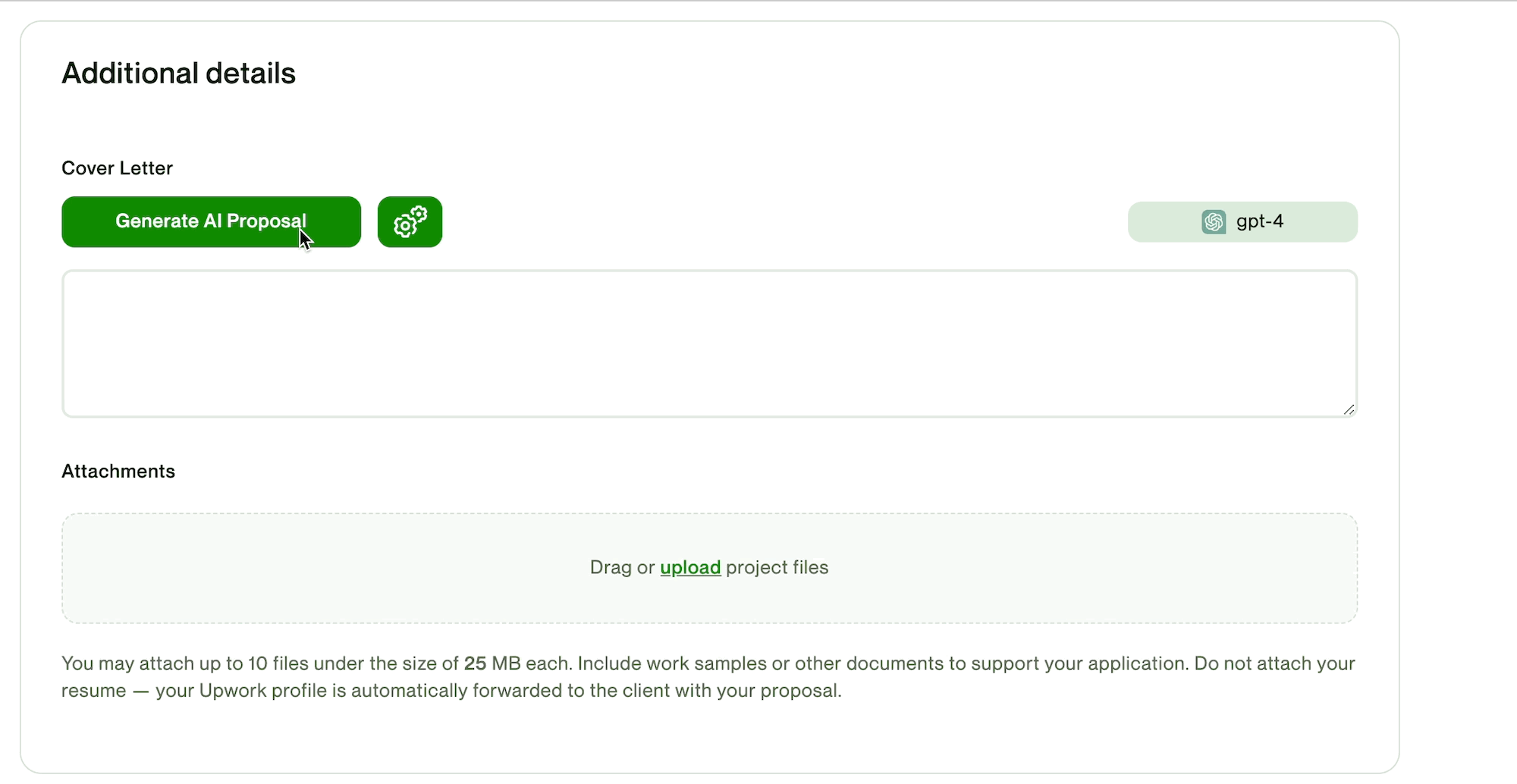 Once your cover letter is set and your proposals are ready, you can simply hit "Send" to submit your application.
What Happens After You Apply for a Job
After applying for a bid, the client may or may not respond. If you don't get a response, the client probably chose someone else. Not to worry – there are plenty more opportunities out there.
You can monitor statistics in Upwex. This will help you track and analyze your actions and improve your performance.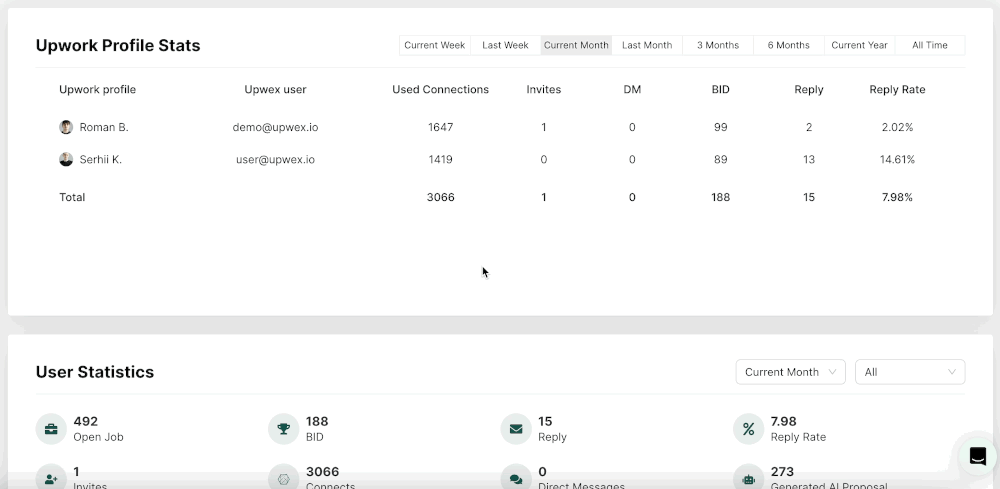 Keep in mind to not send any money to a prospective client upfront. Legitimate jobs pay you for the work you do, not the other way around. Don't fall prey to scammers who might try to deceive you into paying a one-time fee to book the job.
Upwork offers a secure and rewarding freelance platform. With diligence, consistency, and high-quality work ethic, you will land clients and build a thriving freelance career on the platform.
Deciphering the Interview Process
Once you've submitted your application and intrigued an employer, it's likely you'll receive an invitation for an interview. This unexpected email or in-app notification might leave a few questions buzzing around your head – What's an Upwork interview like? What's next?
Firstly, don't panic, and don't be misled by the formal terminology of "interview". This is normally a fairly casual process where you'll have a chat over Skype or Upwork's messaging system about the job at hand.
Responding to Interview Invitations
Giving prompt responses to interview invitations can enhance your profile reputation and attract more job offers. As potential clients often want projects started quickly, they might be less inclined towards freelancers with a track record of delayed responses. In your interview response, it's always appreciated if you address the client by their name (if provided). This shows you've closely read their message and adds a professional touch to your interaction.
Ensuring the Legitimacy of the Client
A crucial part of accepting job invitations or interviews is gauging the legitimacy and reputation of the client. Check out the client's reputation on the side of your Upwork dashboard. Key things to consider include if their payment method has been verified, the client's review score, and the country they're based in.
Navigating Job Offers
Job offers come hand-in-hand with successful interviews. But sometimes, you might receive job offers without an interview. Both would appear under the Proposals and Offer tab of your Upwork homepage.
Examining Job Offers
Taking some time to examine job offers closely can save you possible pitfalls down the line. Check out the client's reputation, verify their payment method, and scrutinize the contents and terms of the job before accepting.
Types of Jobs: Fixed Rate vs Hourly Jobs
Upwork offers two major types of jobs: Fixed Rate jobs, where the earnings don't depend on the time spent, and Hourly jobs, where earnings are calculated based on the time spent working.
The Hourly jobs involve the Time Tracker app, which helps track the hours you've worked for a client. This ensures you get paid for every minute you put into the job.
Now, let's delve more into accepting job offers and how the Time Tracker works!
Accepting Job Offers
Accepting a job offer starts with clicking on the relevant offer and agreeing to the terms of service. Two critical elements in the job accepting page are the "Profile" and "Terms" tabs. The "Profile" tab allows you to choose between applying with your general profile or specialized profile (if created). On the other hand, the "Terms" tab allows you to set how you'd like to be paid, your payment amount, and how long the job is going to take.
Upon completing these steps, click 'submit proposal'. A cover letter rounds up the proposal submission process. This is the perfect chance to thank the client for the job invitation and express your interest in the project. It's always a good idea to drop in the client's name (if provided) and attach relevant work samples.
Tracking Your Work with the Upwork Desktop App
For hourly jobs, you'll need to keep track of your work hours. Enter the Upwork Desktop App – it's a functional time tracker that enables you to log your work hours, ensuring you're paid accurately. The desktop app captures screenshot of your screen occasionally as proof of work done. You can download it from Upwork's Downloads page.
To start tracking your work:
Launch the app and select your active contracts.
Choose the contract you're about to start working on.
Write a memo indicating your planned tasks.
Click the 'Start Tracking' button.
Ensure the button is switched off during break periods and switched back on when you resume work.
When you're done with the work, manually submit your work for payment before the agreed deadline. This can either be done by clicking the 'Submit work for payment' button or sending the completed work via the Upwork messaging system. The client will then approve the work and release your payment.
Setting Up Payment Details
To ensure you're promptly paid, you should set up a payment withdrawal method, either to your bank, Payoneer, PayPal, or local bank. If you're not from the US, Wise can help you set up a US bank balance.
To add a payment method, go to your profile icon, click on Settings, then navigate to "Get Paid", and click "Add Method".
Giving and Receiving Feedback on Upwork
Feedback is a crucial part of your profile. It is these snippets of praise or constructive criticism that potential employers skim through when they check out your profile. Build them up, and they can serve as shining recommendations on your virtual CV, helping you secure more gigs and build a reputable profile.
How, you may ask, can I gather this feedback? Well, feedback can only be received at the end of a contract with a client. Even in ongoing contracts, you can request the client to end the contract momentarily so they can provide you feedback and then start a new one.
How to End a Contract on Upwork
Click on 'My Jobs' and navigate to the contract you wish to end. If a milestone is completed and you've received your payment, ending the contract will not entail any monetary loss. Hit the 'End Contract' button and make your way through the prompts ensuing.
You'll then be asked to provide feedback on the client privately (visible only to Upwork) and publicly (visible to everyone). While comments aren't necessary, they are highly encouraged to provide context for your star ratings. Remember to keep your comments positive and indicative of your work experience with the client.
Tip: It's considered good practice to notify the client via messages about the termination of the contract to avoid sudden surprises. A friendly note explaining your intentions can go a long way in maintaining healthy client relations.
Encouraging Clients to Leave Feedback
Upon ending a contract, gently nudging your client to share their feedback can be beneficial. A quick call to action, like 'If you find the time to leave some feedback, I'd really appreciate it', can catalyze more responses.
Leaving Feedback for Clients
To leave feedback for a client who has ended the contract, navigate back to 'My Jobs'. Contracts awaiting your feedback will be displayed at the bottom. You'll only be able to view the client's feedback for you once you leave feedback for them, and remember, once delivered, feedback can not be changed.
With that, we've covered the most prominent aspects of ending contracts and gathering feedback on Upwork. Be sincere and candid in your feedback, and you'll cultivate a glowing profile that attracts great clients and exciting opportunities.
Thanks for reading! Stay tuned for more insights and guidance in your freelancing journey.