As the freelancing industry rapidly evolves, competition on platforms like Upwork grows fiercer by the day. For freelancers and companies alike, standing out amidst the sea of proposals is a significant challenge. You might have asked:
What is a cover letter in Upwork?
and How do I create a proposal that rises above the rest?
Enter Upwex, your powerful solution.
Upwex offers an AI-powered Upwork proposal generator, a tool designed to optimize your proposal creation and significantly increase your chances of successfully securing a project. The AI-driven technology behind this tool saves you time and effort, allowing you to focus on what truly matters – delivering quality work.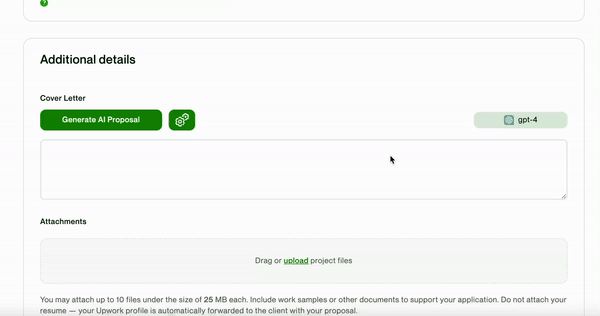 What sets Upwex apart from other tools is its unique ability to provide an automatic proposal generation based on job post analysis. It reads and understands the job post, then crafts a tailored, professional proposal that resonates with your prospective client. With Upwex, you get targeted and efficient proposals without spending unnecessary hours deciphering job descriptions.
So, how does this Upwork proposal generator work?
It operates using advanced AI technology similar to ChatGPT, known for its proficiency in human-like text generation. The Upwex AI Proposal Builder scans the job post, identifies key points, and creates a compelling cover letter for your Upwork proposal. It intelligently weaves in your skills and experiences to create a proposal that is convincing and perfectly tailored to the job requirements.
Upwex isn't just an AI proposal generator
It's a game-changer in the Upwork competition. It helps freelancers and companies alike to rise above the rest, showcasing their expertise in a concise, persuasive manner. If you're a freelancer battling with the best Upwork proposals or a company struggling with drafting numerous proposals, Upwex is your ticket to a more streamlined, effective process.
Additionally, Upwex is accessible to everyone. Whether you're a seasoned professional or new to the Upwork platform, you can take advantage of the Chat GPT cover letter generator features of Upwex. It's as easy as inputting your job post link and letting the AI do its magic.
When it comes to creating an impactful cover letter for Upwork proposal, time is of the essence. The faster you can respond with a top-quality proposal, the better your chances of catching the client's attention. That's where the free AI proposal generator of Upwex proves invaluable, offering a quick, efficient solution without compromising on quality.
How does Upwex work?
---
Cases of our users
Case 1: Let's consider an experienced freelancer, Susan. Despite her vast knowledge and skills, Susan often struggled with creating engaging proposals for Upwork projects. She'd spend hours fine-tuning her proposals, leaving less time for her actual work. Then she discovered Upwex. With Upwex's AI Proposal Generator, Susan could quickly generate professional proposals tailored to each job post. The result? More clients, less time wasted, and a significant increase in her project success rate.
Case 2: John's small IT firm had a big challenge – how to stand out amidst the competitive world of Upwork? While his team was stellar at software development, they couldn't quite nail the art of proposal writing. The tool was a game-changer for John's team. They began crafting compelling, client-specific proposals at an incredible speed, turning the tide in their favor and significantly increasing their project wins on Upwork.
Case 3: Julia, a novice freelancer, was intimidated by the fierce competition on Upwork. She had the skills, but her proposals often failed to grab clients' attention. That's when Julia found Upwex. Upwex's AI Proposal Generator became her secret weapon, helping her create top-tier proposals. This boosted Julia's confidence and, more importantly, her visibility and success rate on Upwork. She now enjoys a steady stream of projects, thanks to the AI's strategic proposal crafting.
In conclusion, the Upwork Proposal Generator of Upwex stands tall in the arena of Upwork competition. It not only saves time but also helps create professional, winning proposals. So next time you find yourself wondering about the best cover letter for Upwork proposal or the most effective Upwork proposal generator AI, look no further than Upwex. Take the step today, and you might just find yourself at the top of the client's list tomorrow.
Frequently Asked Questions
How to use Upwork?
Upwork is a platform that connects freelancers with clients who need professional services. To use Upwork, you'll need to first create an account, and then set up a profile that highlights your skills, experience, and portfolio. Once your profile is set up, you can start bidding on jobs that match your skills. If a client is interested in your proposal, they'll contact you through the platform.
How to get started on upwork?
Getting started on Upwork involves several steps:
– Sign up for an account on the Upwork website.
– Fill out your profile thoroughly. This includes providing information about your skills, experience, and portfolio. You want to make sure you present yourself as a professional and stand out from other freelancers.
– Start looking for jobs that match your skills. You can do this by browsing the categories or using the search function.
– When you find a job you're interested in, submit a proposal. This will involve explaining why you're the best person for the job and providing a quote for your services.
If a client is interested, they'll contact you through the platform to discuss the project further. With Upwex, getting started on Upwork becomes smoother.
How does Upwork work?
Upwork works as a platform to connect freelancers with clients who need services. Clients post jobs, and freelancers submit proposals to these jobs. If a client likes a freelancer's proposal, they can hire them to complete the job. The platform provides a secure way for clients and freelancers to communicate, collaborate, and transfer payments. Upwork takes a percentage of the freelancer's earnings as a service fee.
How to make money on upwork?
Making money on Upwork involves finding jobs that match your skills, submitting compelling proposals, and delivering high-quality work. Here are some tips:
– Create a strong profile: This is your first impression with potential clients. Make sure it showcases your skills, experience, and portfolio.
– Find jobs that match your skills: Use the search and filter options to find jobs that you're qualified for and interested in.
– Submit compelling proposals: Upwex is there to assist you, from finding the right jobs that match your skills to crafting compelling proposals that catch clients' attention.
– Deliver high-quality work: The better your work, the more likely you are to get good reviews and repeat business.
– Set competitive rates: Research what other freelancers with similar skills are charging to make sure your rates are competitive.
By enhancing your productivity and performance, Upwex helps you maximize your earnings.
How to submit proposal in upwork?
When you find a job you'd like to apply for on Upwork, you'll need to send a proposal. Upwex can help make this process more efficient by providing you with a framework for crafting compelling proposals. Remember, your proposal should highlight your skills, past work experiences, and how you can deliver value to the potential client.
How to get jobs on upwork?
Securing jobs on Upwork involves more than just applying. You need to ensure your profile is compelling, your proposals are persuasive, and you're applying for jobs that suit your skillset. Upwex supports you in all these aspects, helping you to identify the most relevant jobs, craft strong proposals, and ultimately, improve your chances of landing the project.