Introduction
Welcome to the world of Chrome Extensions – where productivity meets convenience! Chrome extensions are tiny software programs that can personalize your browsing experience. They allow you to add more functionality to Google Chrome and enhance your browsing experience.
Chrome extensions have come a long way since their inception in 2010. It all started with AdBlock, which allowed users to block annoying ads while browsing the internet. Today, the Chrome Web Store offers over 190,000 extensions to choose from.
Chrome extensions can do wonders for your productivity. Have you ever found yourself juggling multiple tasks simultaneously? Fret not! These extensions can help you stay focused and organized while saving time.
Why to use Chrome Extensions for productivity, you ask? The answer is simple – they can help enhance your browsing experience, automate routine tasks, and streamline your workflow. Plus, they are easy to install and use. Whether you're a student, a freelancer, or a CEO, Chrome Extensions can help you stay on top of your game!
Chrome Extensions for Productivity
If you're someone who spends a considerable amount of time working on Google Chrome, we have great news for you! Chrome extensions can be a real game-changer for your productivity. In this blog, we'll take you through the top Chrome extensions that can make your work life easier, helping you optimize your time and resources, and maximize productivity.
What are Chrome Extensions?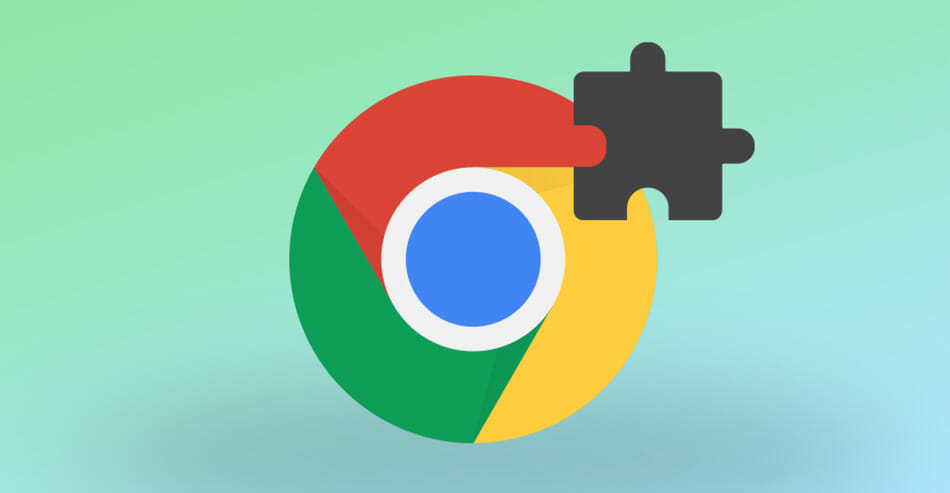 Chrome extensions are mini-applications that provide added functionality when installed onto the Chrome browser. They are user-friendly, easy to install, and can perform a range of tasks such as automating, simplifying, or optimizing processes.
Brief history of Chrome Extensions
Google Chrome was launched in 2008 and quickly became one of the most popular browsers in the world due to its speed, simplicity, and user-friendliness. The first Chrome Extension was released in December 2009, and since then, several thousands of extensions have been created.
Why use Chrome Extensions for productivity?
Chrome extensions are a great way to improve efficiency and productivity by automating mundane tasks, organizing work, avoiding distractions, and overall making your work life simpler. They are easy to install and use, and there are countless options available in the Chrome Web Store to cater to various needs.
How Chrome Extensions can save time?
Chrome extensions can help save time by automating repetitive tasks, such as filling out forms, replying to emails, or scheduling appointments. For example, check out the "Boomerang for Gmail" extension, which can schedule emails to be sent later, set reminders to follow up, and pause your inbox incoming emails for specific times, helping to reduce mailbox overload and keep them organized.
How Chrome Extensions can automate tasks?
Automation is one of the key features of Chrome extensions that can significantly enhance productivity. Especially for repetitive tasks that can take up a lot of time, or require multiple steps, automation can save time and lead to higher efficiency. For example, the "IFTTT" (If This Then That) extension can connect one app or service to another so that according to your requirements, one upcoming activity in one app, such as a Gmail reminder, automatically leads to another app, such as adding a task to your Trello board, all Quick and easy!
How Chrome Extensions can help in team collaboration?
For teams, Chrome extensions can be a game-changer in terms of collaboration, communication, and task management. Some of the go-to extensions include Slack, Asana, and Zoom, all of which are excellent options for team collaboration. With Slack, you can stay connected with team members and discuss project-related issues, while Asana assists in managing projects from inception to completion. Zoom, on the other hand, provides a platform for virtual meetings and webinars, among other things.
Conclusion
In conclusion, Chrome extensions are a great way to boost productivity and overall ease of work. They range from productivity-focused extensions to team productivity extensions. With such a wide range of options available, there's no excuse not to try them out and see the difference they make in optimizing your time and resources.
Upwork Extension for Chrome
Welcome to the section where we will talk exclusively about the Upwork Extension for Chrome, a must-have productivity-boosting tool for freelancers. In this section, we will delve into the features and benefits of the Upwex Chrome Extension for Upwork. So, let's get started.
Benefits of Upwex Chrome Extension for Upwork:
The Upwork Chrome Extension is a powerful tool that simplifies your work process and makes managing projects a walk in the park. The extension is loaded with many features that are customized for freelancers like you. With the Upwork Extension for Chrome, you can seamlessly track all your time spent on different projects, which ensures that you are always paid fairly. You can also receive real-time notifications on new job postings that match your skills and interests. In addition, you get to communicate with clients conveniently via the built-in chat feature, ensuring that you stay updated on all projects at all times.
Features of Upwex Chrome Extension:
The Upwex Chrome Extension is a time-saving tool that you can leverage to enhance your productivity on Upwork. With this extension, you get to automate your bidding process, which will save you a ton of time. The extension also provides you with access to detailed analysis and reporting of your job history.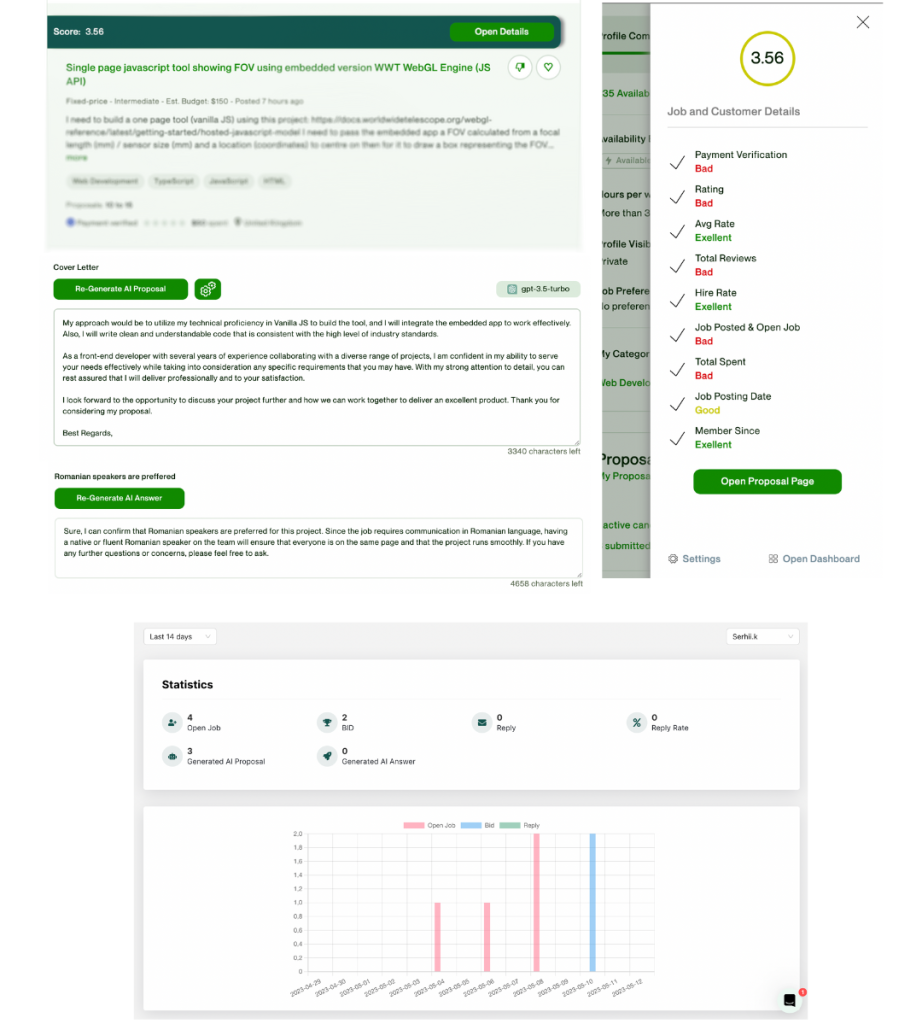 How to install and use Upwex Chrome Extension?
Installing the Upwex Extension for Chrome is super easy. Simply visit the Chrome Web Store and search for Upwex.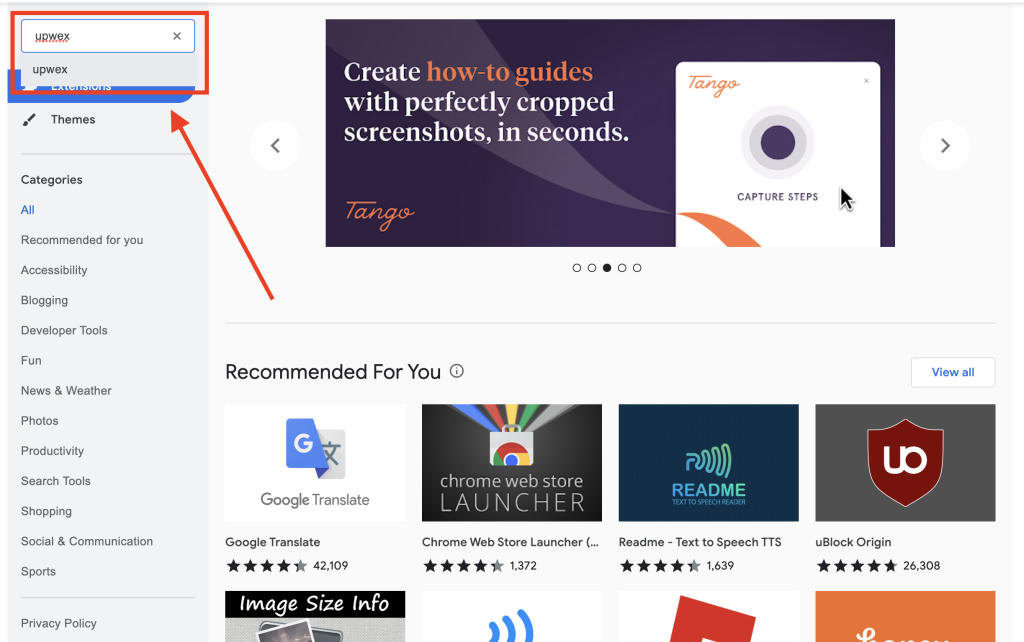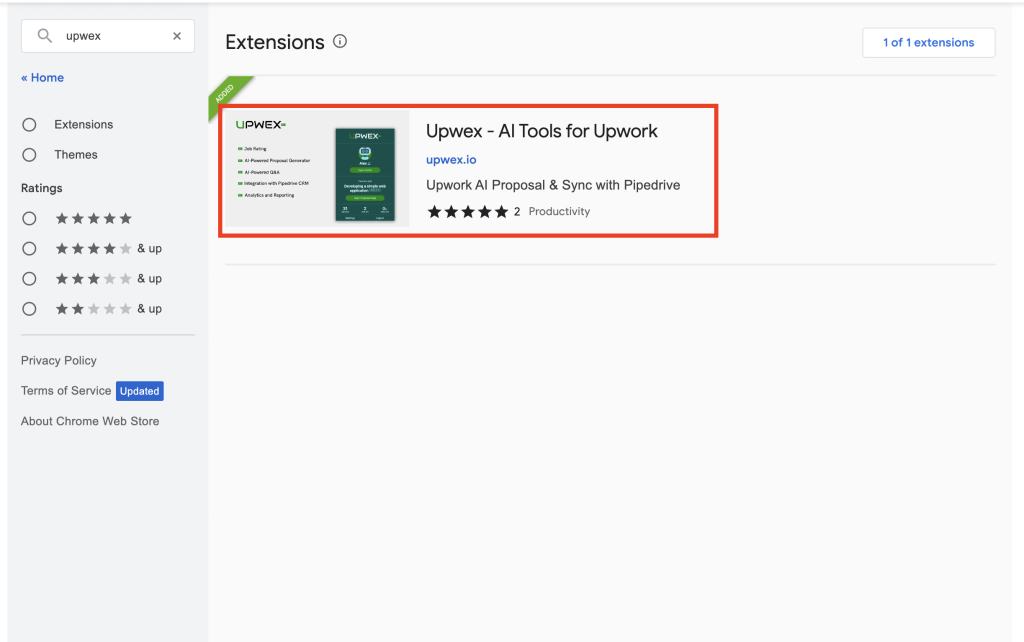 Once you locate the extension, click on "Add to Chrome" to start the installation process.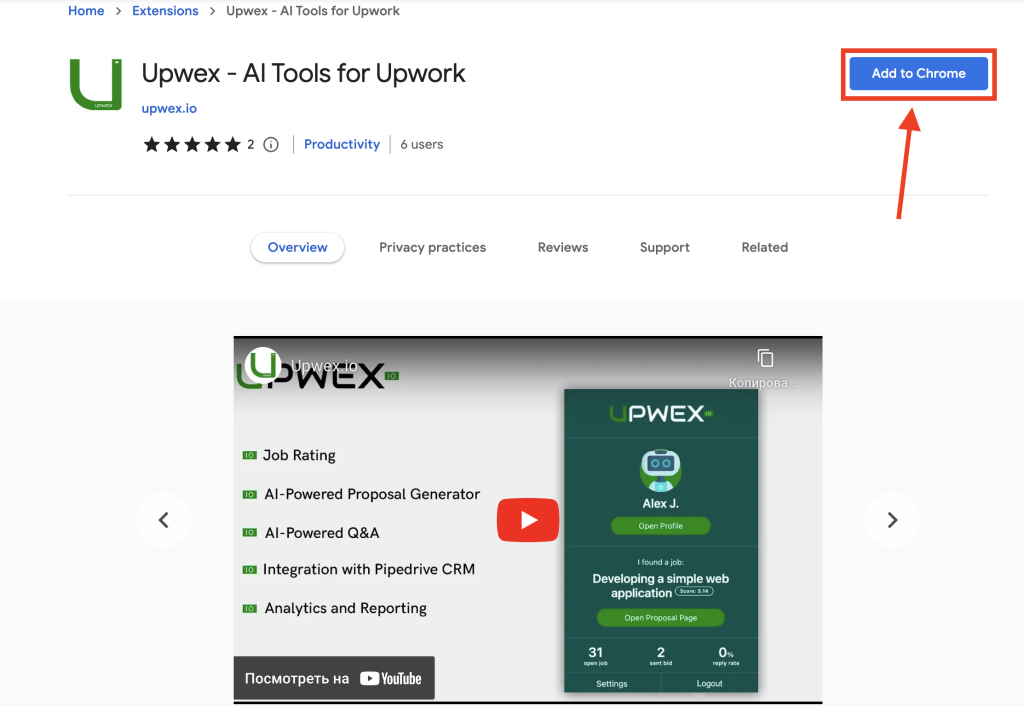 To use the extension, login (https://account.upwex.io/login) to your Upwex account and initiate the required service you wish to avail of.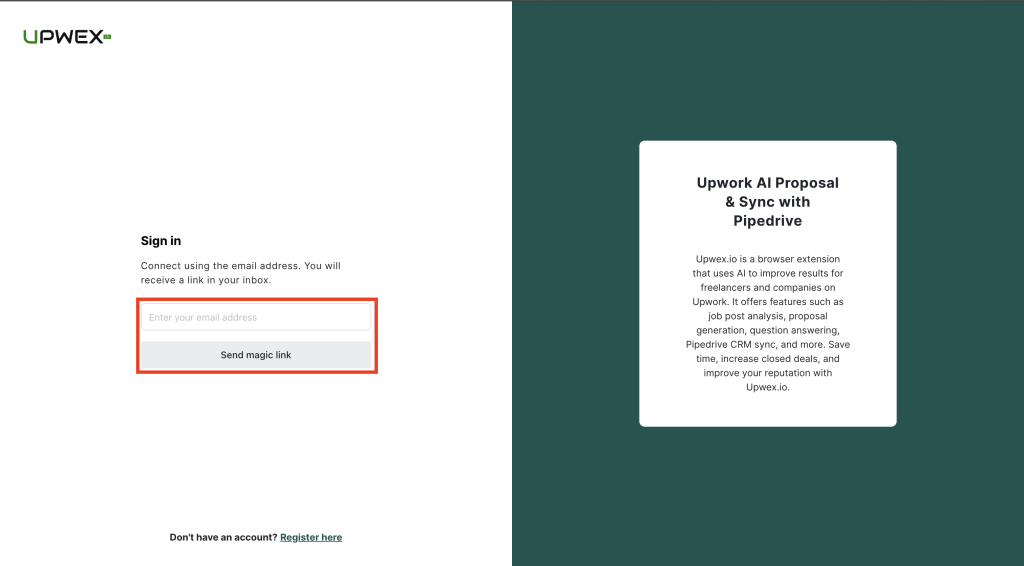 Upwex vs Other Productivity Upwork Chrome Extensions:
While there are many fantastic productivity Chrome extensions out there, Upwex stands out from the rest. Its unique features are designed to cater to freelancers working on the Upwork platform, giving them an edge over other extensions. For example, some extensions only offer time tracking, and others don't have work to generate AI proposal/Q&A.
In conclusion, the Upwex Extension for Chrome is a game-changer, taking simplicity and convenience to the next level. The benefits of using the extension cannot be overstated. The Upwex Extension for Chrome is an excellent tool for anyone looking to maximize their productivity on Upwork.
Conclusion
Chrome Extensions offer users the flexibility to add/remove tools based on the tasks at hand, providing a personalized touch that caters to specific requirements. The future of Chrome Extensions looks promising, with new extensions being developed to cater to the ever-changing needs of businesses and individuals alike.
Incorporating Chrome Extensions into your daily routine can significantly boost your productivity and streamline your tasks. The benefits that come with these extensions are endless and provide a streamlined and efficient way to navigate the online world.
Summing up the benefits of Upwex Chrome Extension for productivity, it is evident that this extension serves as a game-changer when it comes to saving time, automating bidding, generating AI proposals/Q&A, and collaborating with teams.